June 21, 2022
WEEKLY NEWS RECAP: CRYPTO MARKET CAP CRASHES BELOW $1 TRILLION, SEC LAUNCHES INQUIRY INTO INSIDER TRADING AT CRYPTO EXCHANGES
The crypto market has had a torturous week, as a flurry of negative news about Celsius and Three Arrows Capital's performance caused a "chain effect" that sent the market into panic, sending the prices of Bitcoin and Ethereum down. Other major altcoins fell to their 2022 lows, as well as their lowest since January 2021.
Crypto Market Cap Set A Record Crash Below $1 Trillion
For the first time since January 2021, the crypto market cap has fallen below $1 trillion.
The crypto market has never been lower than it was during the summer bear market. During a crypto meltdown in July 2021, the crypto market cap did not dip below $1.2 trillion.
Most major cryptocurrencies are selling at their lowest values since January 2021 or maybe December 2020.
Except for stable coins, all cryptocurrencies in the top 20 by market cap are declining in value.
Avalanche's price has dropped 22% in the last day, dropping it to 16th position in the crypto rankings by market cap. Solana is down 21% in price in the last 24 hours, while Cardano, BNB, and Shiba Inu are down 15%.
Cardano has been flipped by XRP and BUSD in recent hours, dropping it to the eighth position in the crypto rankings by market cap.
UNUS SED LEO has lost 0.2 percent in the last 24 hours and has surpassed Avalanche to take 15th position in the crypto rankings by market cap.
SEC Launches Inquiry Into Insider Trading at Crypto Exchanges
According to Fox Business, which claimed a person with direct knowledge of the inquiry, the Securities and Exchange Commission (SEC) has initiated an investigation into whether crypto exchanges have enough protections against insider trading.
As per the source, the SEC issued a letter to a prominent cryptocurrency exchange inquiring about the kind of safeguards in place against insider trading. According to the insider, the investigation is intended to encompass further transactions as well.
According to the article, the letter was written following the collapse of Terra's UST stablecoin and the accompanying LUNA token last month.
The Securities and Exchange Commission did not immediately reply to a request for comment on the Fox News article. It is also apparently investigating whether Terraform Labs, the firm behind UST and LUNA, violated US laws in its cryptocurrency promotion.
Binance To Ban Litecoin Transactions
Binance, the world's largest crypto exchange by volume, said this morning in a blog post that they will no longer support the MimbleWimble Extensions Block (MWEB) functionality for Litecoin (LTC) deposits and withdrawals. They cited security concerns as the primary reason for their move.
Many other currencies have been delisted by Binance in the past for security grounds. Binance, for example, delisted Bitcoin Diamond (BCD), Cindicator (CND), Monetha (MTH), Nitro, Network (NCASH), and YOYOW on March 8, 2022. (YOYO).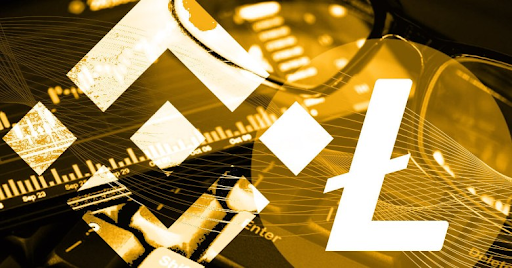 MWEB is just an opt-in functionality that users can use when transacting on the main chain. Litecoin transactions can be enabled in crypto wallets as an opt-in option, although they are not necessary.
On June 13, Binance said that they will not be held liable if investors deposited LTC through the MWEB service. As a result, Binance will not be held liable for any losses suffered by investors.
USDC issuer Circle Announces Launch of Fully-reserved, Euro-backed Stablecoin
USDC issuer Circle Internet Financial on Thursday announced that it is set to launch a euro-pegged stablecoin called Euro Coin (EUROC) at the end of the month.
The firm released a statement that said Euro Coin will be backed by euro-denominated reserves "held conservatively in the custody of leading financial institutions within the US regulatory perimeter, beginning with Silvergate Bank".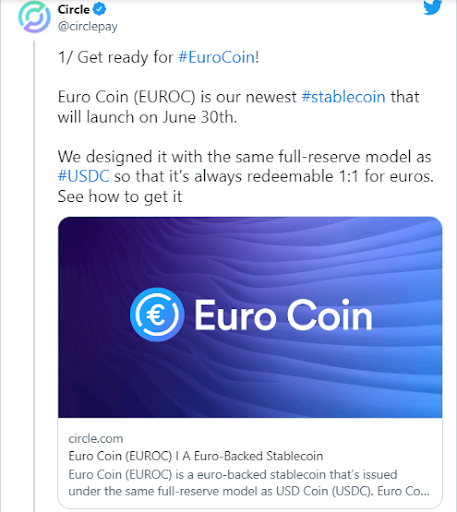 Euro Coin will first launch on the Ethereum blockchain and will be supported by Anchorage Digital, Binance.US, Bitstamp, Compound, Curve, CYBAVO, DFX, Fireblocks, FTX, Huobi Global, Ledger, MetaMask Institutional, and Uniswap Protocol, according to the company.
Bill Gates says crypto and NFTs are "100% based on greater fool theory"
Bill Gates opposes cryptocurrencies and non-fungible tokens.
Appearing at a TechCrunch talk on climate change on Tuesday, the billionaire Microsoft co-founder described the phenomena as "100% based on greater fool theory", alluding to the premise that overpriced goods would rise in value when enough investors are ready to pay more for them.
Gates said that "expensive digital photos of monkeys" will "immeasurably benefit the world", alluding to the much-touted Bored Ape Yacht Club NFT collection.
NFTs are tokens that cannot be exchanged for other tokens. They're frequently promoted as a means of proving ownership of digital goods such as art or sports souvenirs. However, given the energy-intensive nature of cryptocurrencies, many regard them as overhyped and possibly damaging to the environment. Many NFTs are constructed on the Ethereum network, which is the second-largest token.
"I'm used to asset classes... like a farm with output or a firm with merchandise", Gates explained.
"I'm not involved in it", Gates said of cryptocurrency. "I'm neither long nor short in any of those dimensions".
Immutable Launches $500M Fund To Boost Web3 Gaming Adoption
As more cash is put in the field and established Web 2.0 gaming firms aim to penetrate the web3 market, the crypto gaming business is growing in popularity.
Immutable, an Australia-based web3 gaming company, has created an initial $500 million developer and startup investment fund, according to Robbie Ferguson, president and co-founder of Immutable.

The funds will be used to finance projects developing web3 games and NFT-focused firms using Immutable X, its layer-2 Ethereum-focused platform.
Ferguson stated that Immutable's major objective is to allow the next generation of web3 gaming at scale. GameStop, TikTok, OpenSea, and Illuvium are just a handful of the gaming developers and IP holders that have previously built on its platform.

In a nutshell
Bad news was predicted to undoubtly pervade the crypto community with severe impact. However, not all crypto news this week are negative. NFT projects and companies are coming up with new plans and token launches, which were intended to bring a partial revival to the community.